Corporate Testimonials
AUSTAT Council
Dear Carina, I am writing on behalf of AUSTAT Council to convey our great appreciation for your editorship of ITM in the past year.
It's not always easy to find someone to edit ITM and the task is always rather more challenging and time-consuming than many imagine.
Your period of editorship produced regular, lively and professional-looking journals. They have served to promote important debate and above all provide our far-flung membership with a continuing sense of community.
The first printed annual 'best-of' is a particularly impressive and successful innovation and has given us a good solution to some our distribution dilemmas.
Thank for your hard work and commitment to the task.
We hope that your bold endeavours in establishing your own AT practice bear fruit and we also hope that sometime down the track, you may consider further participation in the larger AUSTAT project.
Warm regards
Paul Hampton, Secretary
Department of Human Services
Carina was able to engage all of the participants and accommodate each individual according to where they are at in their understanding and knowledge of the body mind connection. She was able to do that within the first 10 to 15 minutes of the workshop. I found that the participants who I feared may have difficulty engaging, actually got a lot out of it. Carina's rare mix of corporate and mind/body health experience was extremely valuable and made her all the more credible. Previous training we have used to enhance resilience has involved a lot of handing out of reading material or the use of a powerpoint presentation which participants read. This has mainly centered around the building of tacit knowledge codified into the mind only. The Alexander approach was a refreshing and valuable change. Participants were asked to engage their body and Carina provided information to build self knowledge which instantly had an effect. This was powerful as participants are instantly engaged because they can feel the difference. All participants then chose to engage in one on one sessions with Carina which was also a big surprise. This is perhaps the most valuable result for us, as engagement is guaranteed in a one on one. Survey results post the sessions have shown us that all participants benefited. We would definitely use Carina again as either a follow up or to engage a new work group.
Tony Pasquali, Health and Wellbeing Consultant, Department of Human Services
Responses to "Any comments or feedback of your overall experience?"
"Great experience – should think about providing regular refresher workshops"
"More enjoyable and interesting than I would have thought it would be"
"Thoroughly enjoyed the experience"
"Thoroughly enjoyed the workshop and the impact it made on the audience"
Department of Human Services Employees
MFB (Metropolitan Fire and Emergency Services Board)
In 1996 due to a work injury I had surgery on my left shoulder and scapula. Unfortunately I was left with chronic pain. A severed nerve left me with 80% loss in my left rhomboids and a winged scapula. In 2012 my boss met Carina at a health convention and suggested she maybe able to help me. While Carina's treatment will not totally cure the effects from surgery, it has definitely helped me in managing my condition. The awareness and techniques that have been raised through Carina's treatment to date has been invaluable. I am finally able to gain comfort and relief through the methods Carina teaches. Carina's enthusiasm and genuine care alone in helping me has made a positive difference. As a consequence I have no hesitation in recommending her services.
Sal Galofaro, Leading Fire Fighter, MFB
Men's Shed- Beechworth
Every Member of the Shed said that it was excellent. Quite a few stated that they wished you had of stayed longer. Carina you are a very Special person with a Extraordinary Talent and I would be very surprised if you ever found anyone that did not like your presentation. On behalf of every one there including myself. Thank you. Bill Dobson, President
I'm writing to add my thanks and those of Bill and our members who were present yesterday morning to enjoy your presentation and gain an insight into the Alexander Technique. The demonstration was for most of us an eye opener – in fact it just goes to show that you are never too old to learn! John Herbst, Secretary/Treasurer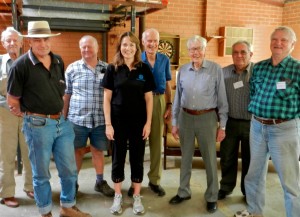 Individual Testimonials
Ravi Lulla (Counsellor)
Carina is a caring and resourceful practitioner.  I wanted to work on becoming more aware of how stress affected my body, improve my communication skills and get a better understanding of body-mind and emotional connections. She had an intuitive ability to identify my individual quirks and more important explain them to me.    She has a colourful way with metaphors which led to many "AHA" moments. More importantly those moments did not fade away but became pivotal points which led to better integration and practise which included:
Remarkable improvement in my posture (walking, sitting, talking).  People continue to comment on how different I look.
My reactions have slowed down and become more integrated. I use less effort and am more calm which means I have more energy and less stress.
My communication skills (Listening, Perception and Speaking) have improved.
There have been many additional benefits including: Improvement in eyesight (I use -1 less power), motivation to exercise  and change bad habits , heightened spatial awareness and  better rhythm.
Teresa Mears
Since I found the Alexander Technique ten or so years ago to be a highly effective means of recovering from a computer related overuse injury , I have been privileged to have lessons with some very talent Alexander Technique teachers.  Carina is one of the most sensitive, creative and inspired Alexander Teachers I have met   Like the late Marjory Barstow a much respected teacher of the technique, Carina continually comes up with new approaches in communicating the essence of the technique. In a recent lesson, where I was experiencing significant tension in my shoulders and neck, Carina asked to imagine that there were tent guy ropes attached between my neck and shoulders. These were pulled tautly and held my head in a restricted position.   We played with releasing the tension of the guy ropes and with the "snipping" of the guy ropes and to my astonished pleasure, this tension as relieved and I was able to move a lot more freely. I use this method frequently to improve my ease and pleasure in movement and everyday activity.
Cally Ituarte
At the beginning of one of my lessons with Carina, I began telling her how I caught myself several times doing different things with my pelvis pushed forward after my Alexander lesson. Carina very gently told me to become aware of myself and see how I was standing. I was shocked to find myself again standing with my pelvis held very forward. Carina, always with her gentleness and profound caring for the problems I was experiencing, was able to guide me and help me to apply the Alexander technique with ease and fun. I loved Carina's description of my arms as enormous wings and their dimensions on my body.  The tension in my arms and upper back that I held for many years became profoundly clear at once. As I visualized my wings with the help of Carina's guiding hands, I became aware of how I was limiting the freedom of these wings. Now as soon as I experience pain, I remember Carina's words to just become aware of myself, and the relief somehow does not take long to arrive………
Jack Mintz  (Trainee Alexander Technique teacher)
It is a privilege to write a few words about Carina. Her background working at a high level in Human Resources for large institutions, has equipped her with a high degree of expertise in communicating both interpersonally & with groups of people. The fact that she has been able to complete her Alexander Teachers training, which is a fulltime course, while still being able to do part time projects in Human Resources for a large financial institution, is a good example of the efficiency, energy & enthusiasm Carina brings to everything she does. Carina has developed an acutely observant eye & a sensitive touch in her ability to help her students along their road of increased awareness & ability to apply the technique to their daily lives. Equally adept at the many useful Alexander manoeuvres'  involved in table or chair work, or specific activities such as yoga, Pilates, gym work, horse riding, or rock climbing, amongst others, Carina's specific brand of energetic skill & insight has been in great demand with other students at the school, including myself. The above together with Carina's continually enquiring mind, can only be a recipe for success in her Alexander practice.
Randall Paul
I'm on top of the world, everything is going well. I'm so much more a complete person and loving life. "I can make decisions, while at the same time keeping composed and in control." Although I have more outlets to hone my Alexander Technique, I still need more lessons to completely turn around my thought process. But still rounded in my back but in time believe it will lengthen more comfortably. Shoulders have softened not holding them but feel the curvature in my back mow. Which probably leads to the head and neck relationship, which I have not got under control yet. I have really loosened up as a person, opened up and able to tolerate all kinds of people, without putting my own colour on things. I can look people in the eye, I can talk to my parents calmly, co-ordination has excelled 400%. I am enjoying life, able to be in the moment a lot more. I look forward to getting up because I know I can deal with any problem that comes my way or goal that I want to achieve. I am very responsive to what people suggest. So all in all, my days are much more satisfying because I enjoy every moment now. I not in search of the next buzz or exciting end, I am more concerned about the means where by, regardless of what people say. Thanks Carina, for your great help.  I think showing people the anatomy of bone structure is a great help. It shows people yes this is really their like that. Not to allow their faulty perception right because really your bodies not designed to bend like this or sit like that. But most import of all, to be open to new experience. Because we have the tendency to cling to what feels right that is the hardest mould to brake. If you can't break that well you will never experience anything new, follow instruction or adapt new environments. Which is one thing the world constantly does. Thus be willing to enjoy life, grow and learn new skills.
Don Cook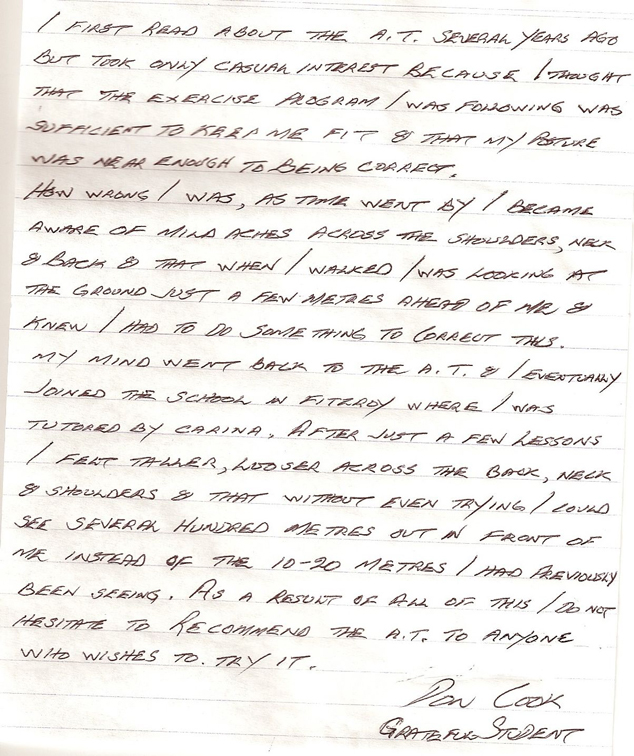 Rob S
I thoroughly enjoyed my sessions with Carina, and I got a lot out of them.
Carina's teaching is very focussed and enjoyable. She has the knack to identify your needs and tailor her lessons to you. The best part is that the learning is long lasting, such that you remember to apply the learnt behaviours/postures in everyday life, outside of the classroom.
Also the Alexander Technique works!